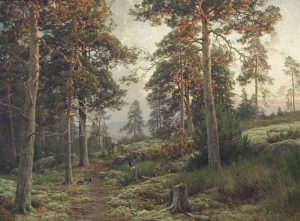 Art historical research on the Finnish landscape painter Berndt Lindholm (1841–1914)
My actually research project is a comprehensive study on the Finnish painter Berndt Lindholm and his works. As a young high-school student Lindholm took first private tutoring in painting in Finland. But soon, by means of a grant of the Finnish Art Society, he could travel to Düsseldorf in 1863 and study art at the Academy  of Arts in Düsseldorf. In the following year he changed to Karlsruhe and continued his art studies by Hans Gude. After a seven year stay in France, Finland and Sweden Lindholm settled 1876 in Gothenburg (Sweden). Most of his works of art are landscape paintings. At first his paintings were influenced mainly by the Düsseldorfer School, but later in Paris Lindholm's works began to show impressionist elements of the plain air painting. In his later works Lindholm displays motifs, which he found mostly in West-Sweden, like rocky coast sceneries or forest scenes.
In order to compile a documentation as solid as possible on Lindholm and his paintings I am looking for all kind of information concerning the paintings and drawings of the artist. Of course, the information will be treated confidentially.
This research project is  founded by the Finish Cultural Foundation.